Ad blocker interference detected!
Wikia is a free-to-use site that makes money from advertising. We have a modified experience for viewers using ad blockers

Wikia is not accessible if you've made further modifications. Remove the custom ad blocker rule(s) and the page will load as expected.
So, I was thinking of a cool game, well, a contest really!
Say your best Y U NO GUY line, and I will rate it 1 to 10!
Then you will vote on the 10/10's and see who is the winner!
Have fun!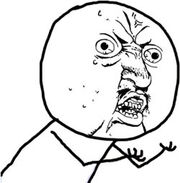 ---
PS: I have this new wiki! The official Y U NO GUY wiki! Please help out! http://yunoguy.wikia.com/wiki/Y_U_NO_GUY_Wiki