Hey fellow iCarly fans! Okay, so I've been pretty excited about the new iCarly episode that will be coming up: iMeet the first lady. I've been very excited about this: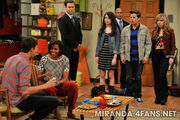 Sam and Freddie were totally holding hands! :)
Also, did anyone else notice that when we see new pictures from the set of the show or videos Sam and Freddie are always making purple??
Comment please!
Ad blocker interference detected!
Wikia is a free-to-use site that makes money from advertising. We have a modified experience for viewers using ad blockers

Wikia is not accessible if you've made further modifications. Remove the custom ad blocker rule(s) and the page will load as expected.