Hey guys! So I see many comments that some don't and like iPsycho. Personally, I know that it's just the same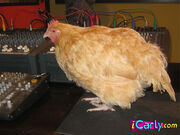 set for almost the whole hour. But actually, it's one of the best episodes of all time for me! In your opinion, do you like it or hate it? Rumors say it's iPsycho the sequel but I say I'm not sure. I'll say it can be something else. Maybe Maurice is just making a cameo or something. So Hate or Like?
Ad blocker interference detected!
Wikia is a free-to-use site that makes money from advertising. We have a modified experience for viewers using ad blockers

Wikia is not accessible if you've made further modifications. Remove the custom ad blocker rule(s) and the page will load as expected.