Hey guys! So I went to Jennette's tumblr (even though I don't have one) I checked it and saw a pic with GRIFFIN! It is soo obvious it was taped maybe this week cuz look at Sam's hairstyle and outfit. She looks "girlier" in Season 4. So, what do u guys think? What episode is this? What is this about? They look like they are on their outfits for filming. How many eppies do they film for a week? Cuz they are done with iDate Sam and Freddie (maybe title) Jennette has a picture with a script that I think says "iTake a Cruise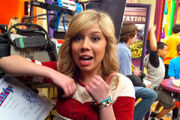 r" or something but Dan posted a video with that outfit meaning that could have been in table read. But, GRIFFIN?! Check this out and pleese comment!
Gelo Fabian
13:27, May 7, 2011 (UTC)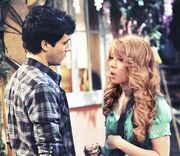 Ad blocker interference detected!
Wikia is a free-to-use site that makes money from advertising. We have a modified experience for viewers using ad blockers

Wikia is not accessible if you've made further modifications. Remove the custom ad blocker rule(s) and the page will load as expected.