Friend to Enemy: Changes
Narrator 1: As Carly and Victoria were talking after school in the schoolyard, About The "New" Plan, Victoria said:
"Ok, Since we have to make changes to the Plan, this is my idea, We Try to turn everyone against Nikki, and we can kick her out in ALL the activities she signed up for. Which means, we're going to have to spy on her, but also, be her friend..... For a while....At least 2 weeks...... or more..... So? How is it Carly? Is it good?"
Carly answered with a stare: "............................ It's........................."
Victoria waited for an answer: "......................Yeah?????"
Carly smiled and said: "It's..............AMAZING!!!! What would I have done without you? :D"
For the first time (In high School): Carly hugged Victoria! :D That`s cute... :D
Narrator 2: MY TURN!!!
Narrator 1: OH NO NO NO NO NO NO NO NO NO NO NO NO NO NO NO!!!!!! REMEMBER LAST TIME?!?!! YOU READ LIKE, ALMOST THE WHOLE CHAPTER!!! AND I READ LIKE, ONLY 1 PARAGRAPH!!!! AND A SENTENCE!!!
Narrator 2: No...... I read only 2 paragraphs.... :/
Narrator 1: NO NO NO!!!! YOU READ LIKE 10 PARAGRAPHS!!!!
Narrator 2: Dude, There's no such thing as 10 paragraphs in a chapter.
Narrator 1: OH, QUIT BEING A SMART- *Bleep*
Narrator 2: LET'S JUST CONTINUE THE STORY, WERE WASTING PEOPLE'S TIME!
Narrator 1: FINE!!! But I continue!
Narrator 2: Whatever.
Narrator 1: Good.... As I was saying, "And That was their Secret Plan."
~The Next Day~
Nikki went to School before any other kid did, which means that she was earlier than all the other people.
Narrator 2: They know that! They're not stupid!
Narrator 1: But maybe you are! Heh!
Narrator 2: GRRRRRRR!!!!!!!!!!!!! YOU SON OF A-
Narrator 1: MOVING ON!!!! As Nikki was in School, walking through the halls, looking at the school pictures on the walls, she bumped into a student, The student was a hunk. Nikki Stared and stuttered as she was trying to say "Sorry." The boy apologized and so did Nikki....... All Nikki did was stare at him.... He Introduced himself: "My name is Gordon. You?"
Nikki stuttered....again: "N-n-n-i-i-k-k-k-i-i-i."
Gordon said: "Nice to meet you Nikki."
Gordon was a new student, with blonde hair and green eyes. He asked if she was alright, She said yes, but not really. Nikki started having a crush on him. He walked away awkwardly. Does the New Student like Nikki Already? We'll find out in the NEXT chapter.
Anything Else
Thx for Reading!
If You haven't read chapter 2 click here: http://icarly.wikia.com/wiki/User_blog:ICarvicious22/Friend_to_Enemy:_The_Plan_of_Trickery
If you haven't read the first chapter click here: http://icarly.wikia.com/wiki/User_blog:ICarvicious22/Friend_to_Enemy
Illustrations: YESSS Here's one! Special Thanks to Hihi for drawing this for me, and i colored the face, and did the backround. Hope you guys like it.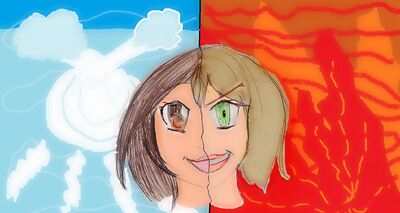 Ad blocker interference detected!
Wikia is a free-to-use site that makes money from advertising. We have a modified experience for viewers using ad blockers

Wikia is not accessible if you've made further modifications. Remove the custom ad blocker rule(s) and the page will load as expected.