Ad blocker interference detected!
Wikia is a free-to-use site that makes money from advertising. We have a modified experience for viewers using ad blockers

Wikia is not accessible if you've made further modifications. Remove the custom ad blocker rule(s) and the page will load as expected.
Hay Guise! Eh Wil bea speekin liek thees fo oanlee dis blawg. lolzzzzzzz.
Translation: Hey Guys! I will be speaking like this for only this blog. lol.
LOL, Jk. I just wanted to speak like hat cause i never do. Anyways, I made a cartoon request a few months ago (click here if you still wanna see it: http://icarly.wikia.com/wiki/User_blog:ICarvicious22/Cartoon_Girls_And_Dogs) But now, I'm making a different thing like this (Although it is going to be similar and more cooler. :) )
So, Here's my Cartoon with my pet :)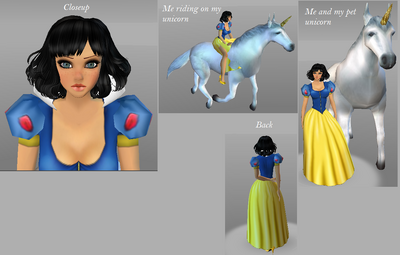 What I'm wearing:
Snow white Gown
Snow white Eyes
Snow white hair
snow white Shoes
Pet:
Unicorn
So You get it now? no? Ok, Look, I'll explain it to you. Comment below for what you want your cartoon to look like. Also, YOU CAN PICK YOUR OWN PET!! Any kind. :)
Also, You can pick your own room! and furniture! :) SO COMMENT BELOW AND TELL ME WHAT YOU WANT :D
Requests: