Creddie fans will probably NOT like this blog. Anyway, this is just a theory so if you are a Creddie fan or just think I'm wrong don't bite my head off.
This is a what I think of how Freddie feels.
Freddie admitted in iKiss that his "hatred" of Sam was a habit. He said it would be too weird if she stopped messing with him, and doing something because it'd feel too weird to stop is practically the definition of a habit. Sam just never gave him a reason to quit "the game".
Is it possible his "love" for Carly became a habit at some point?
I mean, I don't think flirting with Carly was a habit since the beginning, but I think after iSaved Your Life he started flirting with Carly so things could remain "normal". He had always flirted with Carly, so why stop? He didn't breakup with Carly because he boubted how he felt, but because of how he believed she really felt. (I think he was right but that's my opinion). Freddie left the decision of whether or not they were getting back together to her, so it's not like he would've been asking himself if he should get back together with Carly. After she didn't try to get back together with him he probably just realized she didn't want to be with him and didn't put much thought into if he still wanted to be with her.
Nothing happened to make Freddie realize he didn't feel that way about her anymore. And People rarely give up a habit until something makes them realize they should.

And than Sam kissed him
I think it made him revaluate how he feels about the two girls, hence the caption that was put under the photo below.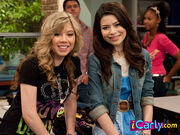 I think it made him realize that their was something deeper going to between him and Sam. I think, even if he didn't kiss back, the iOMG kiss made him realize feelings he wasn't totally aware of.
Ad blocker interference detected!
Wikia is a free-to-use site that makes money from advertising. We have a modified experience for viewers using ad blockers

Wikia is not accessible if you've made further modifications. Remove the custom ad blocker rule(s) and the page will load as expected.