I was scanning Dan Schneider's blog comments, and came across this. So, apparently, Jennette 'unfollowed' Nathan on Twitter or something. (I'm not on Twitter, so I couldn't look at who Jennette/Nathan was following. Plus, Twitter crashes my PC almost everytime I go there. ._.')
Anways, (click on the pic for a MUCH better view) I may be the last to know this, or this may just not be true, but all I wanna know is why.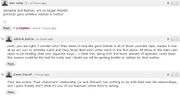 Me Looking WAY Too Much Into This
So maybe Jennette got jealous of Nathan's GF (or doesn't like his GF) and they got in a fight? O___o
Have you all noticed that she's been talking to Lukas Cruickshank (Spelling is probably off. In short, that Fred dude.) a LOT through Twitter? (Hmmmm?)
Laters. =D
Ad blocker interference detected!
Wikia is a free-to-use site that makes money from advertising. We have a modified experience for viewers using ad blockers

Wikia is not accessible if you've made further modifications. Remove the custom ad blocker rule(s) and the page will load as expected.