Ad blocker interference detected!
Wikia is a free-to-use site that makes money from advertising. We have a modified experience for viewers using ad blockers

Wikia is not accessible if you've made further modifications. Remove the custom ad blocker rule(s) and the page will load as expected.
DevonAndersen's blog, http://icarly.wikia.com/wiki/User_blog:DevonAndersen/Nathan%27s_Confirmed_Girlfriend_is_NOT_Miranda_or_Jennette#WikiaArticleComments, told us that Nathan Kress's new girlfriend (Well, actually, a GF of three months.) is Madisen Hill. And lately, you guys have been bashing on her pretty hard. (Intentional or accidental.)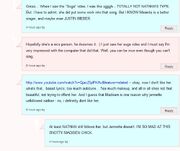 Such as, you've been saying that Madisen isn't modest. Or that she's too auto-tuned on her music. Or that she thinks she's better than everybody.
Well, I don't know. I mean, this video is okay. Link: http://www.youtube.com/watch?v=74gya1FDzdE
While I agree that it is most obviously auto-tuned (A lot, actually.), I still actually like this song. (zOMG, don't kill me! XD)

But you guys are right. The message that this video gives is actually pretty...er...'Mature'. I mean, if you're just listening to the lyrics, you wouldn't really notice, but if you actually paid attention, you'd be "Um, WHAT?" Especially with the line, "It's not love, and I'm too young..." Exactly what is she suggesting with this line? Or maybe, "Takin' a stroll down the ca-a-andy aisle. [As she slides her hands across her chest and smiles]" I'm just kinda like, "Okay..." And I know that I'm young, but that isn't really what I'd call 'sexy'.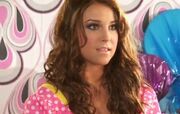 And this is alright with me. I mean, she obviously doesn't look as natural and great as Jennette and Miranda, but she isn't exactly UGLY either. Sure, that's a lot of makeup there, but then again, I think that the makeup in that part is meant to portray a 'sweet' image. (Hence, the 'rosy cheeks' and the 'glossed lips'. But what up with the dance moves? The outfits? And that blond dude? (Because, call me shallow, but he isn't really what I'd want to "...Have my heart wrapped in a suga' coated crush." 'Cuz that dude is ugly!)
And yeah, she doesn't really portray that modest look that Nathan likes. (Because a while ago, he said that he likes modest girls.) But who knows? Nathan could've changed his mind. And she does act pretty shallow and superficial, not to mention conceited and self-centered. (So why does Nathan like this chick? Who knows...)
And although I've pointed out those facts, I'm not going to call her 'gross' or 'ugly'. Believe it or not, I still think she's okay. (She does remind me or Miley Cyrus though. :|)