So I was looking around on Seventeen and there's this list of best high school boyfriends from TV and movies. And I happened to stumble upon none other than our own Freddie Benson! Kinda cool, huh? I ship Seddie, but Freddie's crush on Carly has been a big thing in the earlier seasons. The only thing I find wrong is that it says Carly & Freddie work on the AV club or something..not true! But the iCarly nod is pretty nice :)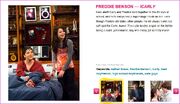 Ad blocker interference detected!
Wikia is a free-to-use site that makes money from advertising. We have a modified experience for viewers using ad blockers

Wikia is not accessible if you've made further modifications. Remove the custom ad blocker rule(s) and the page will load as expected.