LET'S PLAY ANOTHER GAME. So I saw this tumblr post where you draw a cat on Paint with your eyes closed. The results were pretty funny so I thought I could turn it into a blogpost here! I lost the link though what a pity....e_e Anyways, this is my first blogpost in a while. And....here's my cat I drew with my eyes closed. You can use color if you can find/click/choose it with your eyes closed. Heheh.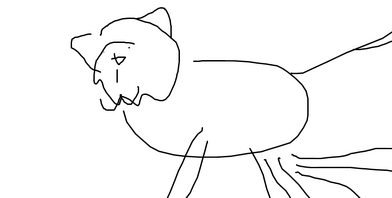 EDIT: I FOUND IT, I DON'T CARE IF YOUR DRAWING A BLOB OF BLOBBINESS OR THE MONA LISA OF CATS.
Ad blocker interference detected!
Wikia is a free-to-use site that makes money from advertising. We have a modified experience for viewers using ad blockers

Wikia is not accessible if you've made further modifications. Remove the custom ad blocker rule(s) and the page will load as expected.