Hey guys! Welcome back to iMario. 'Princess Peach' starts the biggest rage ever in history, which makes the world turn into a HUGE computer! Enjoy!
===At School===
Princess Peach: Has there been the world's biggest computer before?
Luigi: I don't think so.
Princess Peach: I think it would be cool if there was.
===At Home: Webshow===
Mario: Hey guys! Welcome to iMario!
Princess Peach: We got a few videos from fans! Here they are!
*Shows Videos*
Mario: We have got big news! iMario is going up to space! *Claps Hands*
Princess Peach: And we are going to film in are rocket!
Mario: That's right!
===Downstairs===
Princess Peach: How many people watched?
Luigi: 921 people.
Mario: Oh no! I want more viewers!
===Going to Space===
Luigi: *Finds a book, reads* Hey guys! Look! Over 2,300 years ago there was the biggest rage!
Mario: What's the biggest rage?
Luigi: There is this thing on the moon called the Electric Stone, and if they place it on the earth, they can tell it to change. For example, if I told it to be a massive Ice Cream, it would change into that.
Princess Peach: If I find that Electric Stone, I will change the world. Then, lot's of people would watch iMario.
Luigi: I wouldn't do that if I was you. It said the world would end if it happens a second time.
Princess Peach: Fine.
Mario: I agree too!
===Up in Rocket: Starting the Webshow===
Mario: Where is Princess Peach?
Luigi: She'll be around.
===At the Moon===
Princess Peach: Where's that Electric Stone? Hmm, OMG! THERE IT IS! *Grabs Stone and throws it on top of the earth* Wow! I know! *Puts hands together and closes eyes.* Turn into a massive COMPUTER!
*World changes to massive computer*
===Up in Rocket===
Mario and Luigi: *Looks Out of Window*
Luigi: OMG! PEACH DID IT! NOOOO PRINCESS PEACH!
Mario: Goodbye World! Stupid, evil Peach!
*Princess Peach stands in and opens her laptop and shows them*
Princess Peach: It WON'T end if I put water on the Electric Stone. So if I changed it into something, inside the earth it will still be the same.
Luigi: OMG! OMG! OMG! AWESOME!
Mario: IKR!
Princess Peach: *High-five*
===Back at Home: Webshow===
Mario: Well, we all know Princess Peach started THE BIGGEST RAGE IN HISTORY! Let's give a clap to...PRINCESS PEACH! *Claps loudly*
Princess Peach: *Shows Electric Stone to fans* Here is the Electric Stone. The reason the world didn't end is because if you put water onto it and throw it ontop of the world, it won't end because the water protects the earth.
Bowser: I'm Bowser and I'm evil. I WANT THAT STONE AND I WANT TO CONTROL OVER YOUR WEBSHOW!
What will happen to Mario and the gang's webshow and the Electric Stone? Comment below what you think what will happen in Episode 3: iNever Lost My Mind. Bye!
~Star178~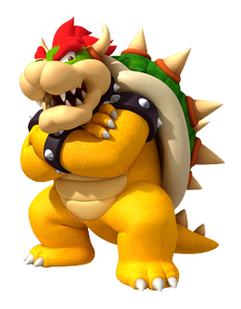 Ad blocker interference detected!
Wikia is a free-to-use site that makes money from advertising. We have a modified experience for viewers using ad blockers

Wikia is not accessible if you've made further modifications. Remove the custom ad blocker rule(s) and the page will load as expected.