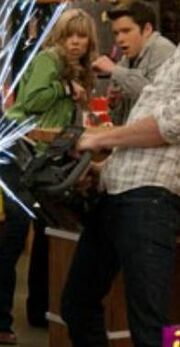 BoldON THE EPISODE ( I MEET THE FIRST LADY ) SAM AND FREDDIE MIGHT GET BACK TOGETHER :D THE PHOTO ON THE LEFT LOOKS LIKE THEIR TALKING ABOUT THEIR RELATIONSHIP. BUT IALSO THINK THAT SPENCER RUEND THE MOMENT HERE IS MY VERSION OF THE SCRIPT...
FREDDIE: sam can we talk for a min.
SAM: what's up?
freddie grabs sam by the hand and takes her to the kitchen*
SAM: what are you doing ?
freddie: i think we made a mistake on breaking up
sam: no i dont think we did
freddie: i cant stop thinking about you
sam: i sorry but -
freddie: no i want to get back together
sam: i dont know
sam and freddie are talking * spencer pertends to power his chain saw but he is achuly hearing their conversation *
sam and freddie look at spencer acwordly *
spencer: im going to power my chain saw now
Sam and freddie: ok :S
spencer tries to cut the safe in half
sam and freddie get scared
THATS IT , THATS ALL I COULD THINK OF BYE :)