Ad blocker interference detected!
Wikia is a free-to-use site that makes money from advertising. We have a modified experience for viewers using ad blockers

Wikia is not accessible if you've made further modifications. Remove the custom ad blocker rule(s) and the page will load as expected.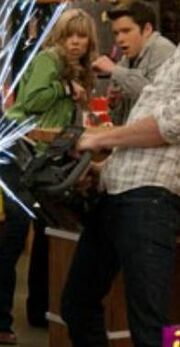 BoldON THE EPISODE ( I MEET THE FIRST LADY ) SAM AND FREDDIE MIGHT GET BACK TOGETHER :D THE PHOTO ON THE LEFT LOOKS LIKE THEIR TALKING ABOUT THEIR RELATIONSHIP. BUT IALSO THINK THAT SPENCER RUEND THE MOMENT HERE IS MY VERSION OF THE SCRIPT...
FREDDIE: sam can we talk for a min.
SAM: what's up?
freddie grabs sam by the hand and takes her to the kitchen*
SAM: what are you doing ?
freddie: i think we made a mistake on breaking up
sam: no i dont think we did
freddie: i cant stop thinking about you
sam: i sorry but -
freddie: no i want to get back together
sam: i dont know
sam and freddie are talking * spencer pertends to power his chain saw but he is achuly hearing their conversation *
sam and freddie look at spencer acwordly *
spencer: im going to power my chain saw now
Sam and freddie: ok :S
spencer tries to cut the safe in half
sam and freddie get scared
THATS IT , THATS ALL I COULD THINK OF BYE :)