Well, to be honest, season 4 isn't really hitting it off for me. Something hasn't quite clicked yet. But I'm sure it will come in time! My fave episode so far has to be iGet Pranky, though. Yes, the ending was a bit weak but I laughed so much before it finished it didn't matter. So what's your fave episode of season 4?
If we go onto my fave iCarly episode ever, it has to be iTake on Dingo. I loved that one! It was hilarious! What is your fave episode ever?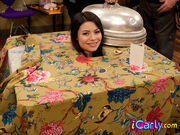 Ad blocker interference detected!
Wikia is a free-to-use site that makes money from advertising. We have a modified experience for viewers using ad blockers

Wikia is not accessible if you've made further modifications. Remove the custom ad blocker rule(s) and the page will load as expected.