You might be wondering what this blog is all about. I suppose some of the older members on here might not get as excited on this topic as I do... I'm talking about Christmas!!!
Are you all pumped up?
I understand that some people don't like Christmas. I just love the feeling of family though. Putting the star on the top of the tree, (or in my case, lifting a very excited 5 year old girl in the air to put the star on the top. Not my daughter btw, I'm waaaaaay too young for that, I'm talking about my little sis) putting the decorations up. I know it's a bit early to be talking about it but considering my street is covered in snow, I thought that it wouldn't matter too much!
Will they show iChristmas?
Do you think they will show iChristmas?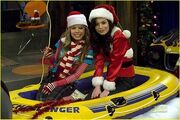 Best memory
My best Christmas ever would be that of 2008. It was the first full day of Christmas I had actually spent with my mother in 3 years. 2005; in hospital. 2006; in hospital. 2007... Guess what? In hospital. I don't really want to say why if that's OK...
What's your best memory or Christmas ever? This was a nice blog although I'm not sure it will get any comments. Merry Christmas!!!


Ad blocker interference detected!
Wikia is a free-to-use site that makes money from advertising. We have a modified experience for viewers using ad blockers

Wikia is not accessible if you've made further modifications. Remove the custom ad blocker rule(s) and the page will load as expected.