First of all: We DIDN'T find any cheating in the votes. Thank you for that. It either means you have all been honest or people have found a way of cheating that noone notices. I'm just gonna assume the first, but if the second is the case, congrats on your intelligence.
Second: I know I said I'd leave it up for the weekend only, but since it was so close, I had to leave it up for a while longer. Now, on February 8 2012, 8:30 PM, we have 92 votes, which should represent the majority of our REALLY active users, I think, so we close the poll now.
Now, to announce the winner: as seen by this screenshot I just took, the winner is: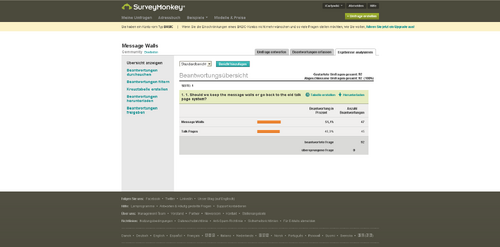 The message wall!
By two votes.
Close, but a winner.
So, we are gonna keep the message walls now.
Mak23686 19:43, February 8, 2012 (UTC)
Ad blocker interference detected!
Wikia is a free-to-use site that makes money from advertising. We have a modified experience for viewers using ad blockers

Wikia is not accessible if you've made further modifications. Remove the custom ad blocker rule(s) and the page will load as expected.