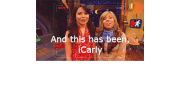 hi everybody i bet you all watched igoodbye! its very sad  and i hope to see them in the future! and guess wat just like carly says its not gone for ever the sadest part was when they said and this was icarly and guess wat its not gone forever it will always be in your hearts and thats why were gonna be happy and positive about the desicion they made . maybe just maybe one day they will be back on thats good news now lets sing the song!
igoodbye  you changed are lives!!!! and made us wonderful!! thank you for the fun and crazy actions and all the disco lighting dances its so real i cant belive how you feell and thank you sam for the ribs and the moter cycle and and all the crazy  webshows and if i carly crew member see this song maybe they will let icarly go more so you waked up members of are nation its your time to be happy when you can make it and i know its very sad in are nations but we must be happy!! and cry if you need to get it all out comment my blog! with postive about all the comment that i ask you! im telling just how we feeelllll! 
soo goodbye icarly!!
GOOD BYE ICARLY BU
T GUESS WAT NOT FOREVER! JUST FOR A WHILE!
ps:no bad comments on positive
Ad blocker interference detected!
Wikia is a free-to-use site that makes money from advertising. We have a modified experience for viewers using ad blockers

Wikia is not accessible if you've made further modifications. Remove the custom ad blocker rule(s) and the page will load as expected.