Hello! My name is Jessica and welcome to my new blog series, "The Weekly Warp (Of Dan)" WHOOSH!!!

.....a whoosh makes it sound dramatic...

Anyway, let's cut to the chase.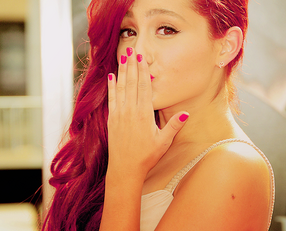 Recently on November 9th of this year, Jennette McCurdy held a Ustream for her fans which allowed them to ask her questions and such. While doing so, Jennette accidentally leaked Ariana Grande's phone number! The red headed Victorious star was quick to reply. But not harshly at all! In fact, Ariana started calling and texting her fans who had called the leaked number. Even though it was yesterday, people are still buzzing about it on twitter. Sadly, some people are "no longer fans because Ariana did not pickup the phone" when they called her. Arianators are still defending their bubbly idol by saying that "those people were never real Ariana fans". 
ஜஜஜஜஜஜஜஜஜஜஜஜஜஜஜஜஜஜஜஜஜஜஜஜஜஜஜஜஜஜஜஜஜஜஜஜஜஜஜஜஜஜஜஜஜஜஜஜஜ
Also during the Ustream, Jennette revealed that she thinks iBloop 2 will be the next episode of iCarly to air. But then again, the stars don't know when the episodes will air anymore than we do. So it could be wrong. Yet, it could be right. We shall just wait and see...
ஜஜஜஜஜஜஜஜஜஜஜஜஜஜஜஜஜஜஜஜஜஜஜஜஜஜஜஜஜஜஜஜஜஜஜஜஜஜஜஜஜஜஜஜஜஜஜஜஜ
Today on November 10th, Dan Schneider's wife Lisa Lillien, AKA Hungry Girl, is having an autograph signing for her new book at THE GROVE in Los Angeles, California. It will be held at Barnes and Nobles 6:45pm PST. There you can enjoy healthy (but yummy) snacks and win prizes. It's all free! 
ஜஜஜஜஜஜஜஜஜஜஜஜஜஜஜஜஜஜஜஜஜஜஜஜஜஜஜஜஜஜஜஜஜஜஜஜஜஜஜஜஜஜஜஜஜஜஜஜஜ
Speaking of Hungry Girl, Mrs. Schneider was on The Food Network this past Sunday on the 6th alongside Miranda Cosgrove making Spaghetti Tacos! You can find the recipe here. 

ஜஜஜஜஜஜஜஜஜஜஜஜஜஜஜஜஜஜஜஜஜஜஜஜஜஜஜஜஜஜஜஜஜஜஜஜஜஜஜஜஜஜஜஜஜஜஜஜஜ

Thank you for reading! :) - ILoveSeddie1234321 (talk to me!) 15:44, November 10, 2011 (UTC)
Ad blocker interference detected!
Wikia is a free-to-use site that makes money from advertising. We have a modified experience for viewers using ad blockers

Wikia is not accessible if you've made further modifications. Remove the custom ad blocker rule(s) and the page will load as expected.