OMG OMG OMG OMG OMG!!! GUESS WHAT, GUESS WHAT, GUESS WHAT?!!!??!!?!!?!?!
IT'S AR0N65'S FRIGGIJIGILING BIRTHDAY TODAY!!! SWEETTT!!!
QUITE LITERALLY!!! BECAUSE IT'S HIS SWEET SIXTEEN!!! Well, I'm not sure if they even have Sweet Sixteens in Hungary (Budapest by the way :3, I'm a stalker xD) but still.... Happy Barfday!!! No wait.. tha'ts not right... ALPACAS!!! So, since I am an awesome and funatistic (yes it's a word.. well now it is) person (that was a lie... I'm an alpaca) I made a few banners for him!! Well, two. Doesn't matter.
I also made (edited, it's not mine, heck no), well edited, a video for Aron with Mickey Mouse saying happy birthday!! Yay! I was too lazy to get off my arse and make a video -_-. Also I am not allowed.. Dumb.
But still. Happy Barf-birf-sorry-Birthday!!! We all you wish the best of wishes (well SOME of us do)!!!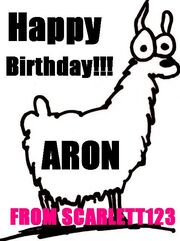 Ad blocker interference detected!
Wikia is a free-to-use site that makes money from advertising. We have a modified experience for viewers using ad blockers

Wikia is not accessible if you've made further modifications. Remove the custom ad blocker rule(s) and the page will load as expected.