Ad blocker interference detected!
Wikia is a free-to-use site that makes money from advertising. We have a modified experience for viewers using ad blockers

Wikia is not accessible if you've made further modifications. Remove the custom ad blocker rule(s) and the page will load as expected.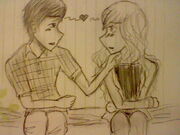 Just me saying i need to fill up the rest of my summer so anybody have any icarly requests? I will draw any pairing and etc. I just really something to do waiting for this new episode!!!!
Heres an example --------------------------------------------------------------------->
so leave a comment here for a request or visit my Deviantart http://clarinda1.deviantart.com/ or my tumblr http://clarindahero.tumblr.com/ or tweet me http://twitter.com/#!/Clarindahero
what ever floats your boat or ship hahahaha ........yeah plz help my boredom