Hey guys!! I jus wanted to know: What is your favourite Seddie moment besides the four kisses???
I really like when in iFind Lewberts Lost Love Sam and Freddie are sitting in bean bags watching Lewberts photos :) They were acting like an old married couple watching their kid's photos :) I loved it! They looked so cute :D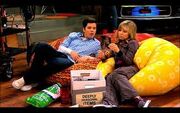 Please tell me yours :) Bye!!