Hi! Seddiegirl808 here! I'm going to create a new story called The Game of Death (Yes I know this is also a movie by Bruce Lee but it'll be different). If you have a charecter you want to be just comment below. Also for the age, i want ages 10-16 Here's something that looks like what you should have:
Name:Annabelle Hopkins
Age: 14
Eye color: Gray
Skin color: White
Hair: Sholder length black
Clothes: White camisole, black hoodie and jeans
Personality: Smart yet shy and super clumsy and TOTALLY scared of the spotlight being on her!
Secret: She is an amazing singer!
Random stuff: Her mom is dead and she only has a father and older sister. She also is half italian
Picture (optional):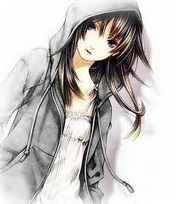 Notice: Not a real charecter just an example
SO COMMENT NOW AND CREATE YOUR CHARECTER
And remember........BELIEVE IN UNICORNS! o_O
~Seddiegirl808 ♥☻♥
Ad blocker interference detected!
Wikia is a free-to-use site that makes money from advertising. We have a modified experience for viewers using ad blockers

Wikia is not accessible if you've made further modifications. Remove the custom ad blocker rule(s) and the page will load as expected.