Comment

1
iCarly Fanfiction: July's Featured Story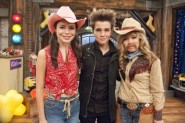 Congratulations to iGo Somewhere Warm for winning July's featured story!
iGo Somewhere Warm, by StraightACarlaay, follows the main iCarly characters on their trip to Puerto Rico, with mishaps and drama along the way. Currently has 53 comments.
Congrats to StraightACarlaay for having the first featured story on the iCarly Fanfiction Wiki!
--"Look, Wings!" ♥Yes, Gwen, wings are way more important.♥ 23:48, August 22, 2011 (UTC)