Hey guys! (UPDATE 3.22.11 : PLEASE SCROLL DOWN!!)

Today I went to German wikipedia (I'm from Germany) and in the episode list for season 4 there was a future episode named "iOMG" (and not on English wikipedia). Well, of course, I know that wikipedia isn't that reliable at all, so I googled and found it also on tv.msn.com but nowhere else.
http://tv.msn.com/tv/episode.aspx?episode=63923976-ec99-4392-bd9b-9f5f8b12f8fd
http://de.wikipedia.org/wiki/ICarly
Now my question: Do you happen to know if tv.msn.com is a reliable source? I always thought it was but now i'm not sure anymore.
And: If "iOMG" would be a future episode - what do you think would it be about? It's alt least a very...expressive title.;)
Greetings from Germany,
Liza;D
UPDATE, 01.31.11:

Saw THIS blog post about it today:
http://robsp1derp1g.wordpress.com/2011/01/26/you-guys-ever-heard-of-episode-310/#comments
And here are some fan's opinions:
http://www.tv.com/icarly/official-andquotihelp-nevelandquot-episode-disscussion/topic/85277-2844868/msgs.html
I found out that it's the "mystery episode #310" we're dealing with. Since there've been so much rumors about that episode I wanna know: What do you guys think?
UPDATE, 03.22.11:
Okay guys! So much people told me that I'd fallen for another "phony"...Well, obviously I'd NOT 'cause Dan confirmed iOMG on Twitter!!
He said: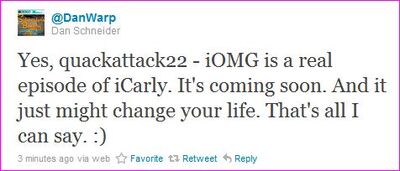 Sooo...who said I'D FALL FOR PHONIES, HUH?? xD
Since it's called "I Oh My Gosh" it HAS to be HUGE!!

And since we got some pretty good hints towards one pairing recently, I guess it's clear what most of us are thinking... ;)
But let's not get all over-excited, we don't know anything yet. Hints are hints not facts!! :D
ANY SPECULATIONS?
Ad blocker interference detected!
Wikia is a free-to-use site that makes money from advertising. We have a modified experience for viewers using ad blockers

Wikia is not accessible if you've made further modifications. Remove the custom ad blocker rule(s) and the page will load as expected.