So Dan just posted this up a few minutes ago;;
"I'm working on the NEW iCARLY which airs THIS SATURDAY NIGHT! Guess what you'll see for the 1st time EVER! Carly's ROOM? ReTWEET!"
http://twitter.com/DanWarp/status/18456513990
Anyone want to elaborate on this? I thought it was airing on the 30th? Maybe Dan's just messing with us?
edit// looks like Dan was just half asleep or something haha He already deleted his post and updated with the CORRECT air date information. I put a pic of the original tweet, if you're curious.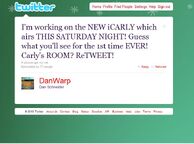 Ad blocker interference detected!
Wikia is a free-to-use site that makes money from advertising. We have a modified experience for viewers using ad blockers

Wikia is not accessible if you've made further modifications. Remove the custom ad blocker rule(s) and the page will load as expected.