.
I am here to post a few thank yous i have for certain members of the iCarly Wikia.
Firstly for SCherry08, Who was prepared to do anything to make me feel better and broke me from my depressive state! She made me a pony on a internet thingy. Its so cool :)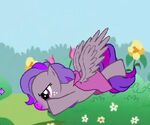 Second for Hihi, my Pegasister.
Go check the pics she made me. They are sooooooooooo awesome. She made one when i was in hospital and one of all my closest friends; known as the Element of Harmony just like MLP.
Next is Mak I want to thank you Mak for being like a older brother, father figure to me and caring about me when i felt my worst.
Finally to my bestest friend; Alica and the rest of the iCarly Wikia. I love you <3
Thank you all so much for all you have done for me Your the best group of friends, I could ever ask for!
--xSophieSakura (talk) ~ I used to wonder what friendship could be, until you all shared its magic with me!
Ad blocker interference detected!
Wikia is a free-to-use site that makes money from advertising. We have a modified experience for viewers using ad blockers

Wikia is not accessible if you've made further modifications. Remove the custom ad blocker rule(s) and the page will load as expected.