iDo hasn't come on yet. I live in Washington. Spokane Washington. It comes on at 8. Sad I know. BUT I HEARD WHAT I START A FANWAR IS ABOUT! WHEEEEEEEEEEEEEEEEEEEEEEEEEEEEEEEEEEEEE! SEDDIE FTW! WHEEEEEEEEEEEEEEEEEEEEEEEEE!
Random spaz attack ova. I'm watchin' iMakeSamGirlier. It be one of my favorites. "Nice girls don't fight." Would you ever imagine Sam saying that? WOW.
Ok, see ya.
And now a pic for your pleasure.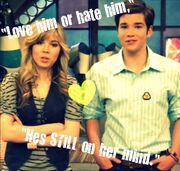 Isn't it wonderful??
PEACE LOVE SEDDIE
~rachel