iDo hasn't come on yet. I live in Washington. Spokane Washington. It comes on at 8. Sad I know. BUT I HEARD WHAT I START A FANWAR IS ABOUT! WHEEEEEEEEEEEEEEEEEEEEEEEEEEEEEEEEEEEEE! SEDDIE FTW! WHEEEEEEEEEEEEEEEEEEEEEEEEE!
Random spaz attack ova. I'm watchin' iMakeSamGirlier. It be one of my favorites. "Nice girls don't fight." Would you ever imagine Sam saying that? WOW.
Ok, see ya.
And now a pic for your pleasure.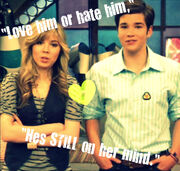 Isn't it wonderful??
PEACE LOVE SEDDIE
~rachel
Ad blocker interference detected!
Wikia is a free-to-use site that makes money from advertising. We have a modified experience for viewers using ad blockers

Wikia is not accessible if you've made further modifications. Remove the custom ad blocker rule(s) and the page will load as expected.