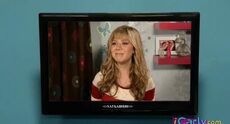 Yatsabishi is a parody of the electronic and electrical equipment company Mitsubishi. Sam is seen using the Yatsabishi television during her You're In Luck segments featured on iCarly.com. Carly has a Yatsabishi computer in her bedroom. This brand has not been featured much on the show itself as Pear Company products.
Also, Freddie said Nora's mixing board was "Yatsabishi 256 triac audio-mixing board" in iPsycho.
In ICan't Take It, a Yatsabishi plasma screen was the one used to show the Super Bra trailer.
In IToe Fat Cakes the Shay bathroom has a Yatsabishi television at the edge of the bathtub. Also when Carly was watching Drake & Josh, it shows Megan, from the show, winning a Yatsabishi TV.