Zaplook
is a website featured on iCarly which is an obvious
parody
of Google. It is similar in appearance. People use this site, to search about things, just like people use Google. Freddie was using it on the episode
iStage an Intervention
when looking it up for Sasha Striker. He also used it in
iHatch Chicks
when the Carly, Sam and Freddie needed to know how long baby chicks could be out of their incubator, as well as what temperature they needed to be at. On the title card sequence where Freddie (off-camera) says, "In 5, 4, 3, 2...", you can see a bookmark that says "ZapLook" in an Internet format of Mozilla Firefox.
The Logo is an obvious parody forGoogle's original logo. However the ZapLook logo is in all capital letters, and the colors are different, for example it starts with a red Z, where as Google starts with a blue G.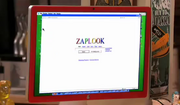 You can vist Zaplook here.
Zaplook search was used in other Dan Schneider shows, such as Drake and Josh. It was used in the movie and when Drake's hands mysteriously turned green, he used Zaplook to search for info and cures. It was used probably more than just that on Drake and Josh, too. Zoey 101 and Victorious and Game Shakers had also used this fictional Google parody.
The URL formerly directed to iCarly.com, but now directs to samandcat.com . It is a compound word using both "zap" and "look", referring to the fact that you can look stuff up quickly, or as fast as a "zap".
As seen in the photo, the logo colors are red, blue, green, purple, and yellow, and the rest are repeated. Although it is a parody of Google, the logo doesn't change to show special occasions (at least not onscreen).
It does not have some of the icons that Google does, such as images, maps, videos and earth.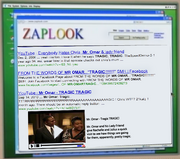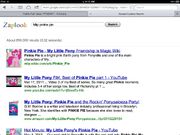 Ad blocker interference detected!
Wikia is a free-to-use site that makes money from advertising. We have a modified experience for viewers using ad blockers

Wikia is not accessible if you've made further modifications. Remove the custom ad blocker rule(s) and the page will load as expected.